Our Products
Moroccanoil is committed to continuously improving our products, from the ingredients they're made of to the packaging they come in.
Designing Greener Packaging
Moroccanoil packaging innovations are already helping to reduce our use of virgin plastic and minimize the carbon footprint of our products. More innovations are ahead, as we aim to incorporate these sustainable design principles in the packaging for other new and updated Moroccanoil products.
Reducing excess packaging materials
Using more recycled content
Creating packaging that can be recycled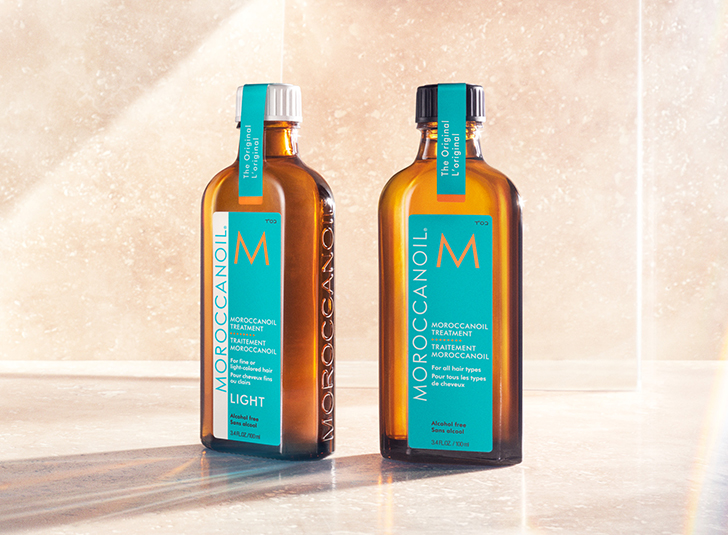 MOROCCANOIL TREATMENT

Moroccanoil Treatment comes in glass bottles made from 35% recycled glass and is 100% recyclable. (Of course, you should always check local recycling rules!)

View Product

COLOR DEPOSITING MASKS

Color Depositing Masks are sold in tubes made of 50% post-consumer recycled plastic. In just the first six months post-launch, this prevented the use of over 3 tons of virgin plastic and reduced the tube's carbon footprint by 40%.

View Product

Moroccanoil Body™ Soap

Moroccanoil Body™ Soap transitioned from a glossy box to 100% recycled paper. This prevented 9 tons of cardboard waste in the first year since the product was relaunched.

View Product
Ingredients and Transparency
Moroccanoil is trusted to create high-quality products that perform beautifully and safely. Our ingredients are the foundation of that trust, so we are providing more information about our ingredients and how they work.
ARGAN OIL

The deep roots and small leaves of the argan tree allow it to resist arid winds and water loss, resulting in a nut with a uniquely rich oil concentration. Rich in essential fatty acids, antioxidants and Vitamin E, argan oil is an age-old beauty secret that has many uses, helping to hydrate and soften your hair, skin and nails.

ARGANID™

Positively charged micro-particles are attracted to the negatively charged hair fiber, infusing argan oil into the cortex while simultaneously helping to repair and seal the hair.

Argan Butter

A natural emollient and conditioning agent blended from argan oil. Valued for its high concentration of natural tocopherols (Vitamin E), phenols, carotenes and essential fatty acids. It leaves the hair soft, nourished and shiny.

Aloe Barbadensis Leaf Juice

Has emollient properties that smooth the cuticle surface while attracting and sealing in moisture.

Apricot Kernel Oil

A high concentration of oleic acid, linoleic acid, and Vitamin E helps to soften and improve hydration of the hair and scalp.

Caryocar Brasiliense Fruit Oil

From the Brazilian Pequi fruit known to be rich in vitamins and essential fatty acids.

Galactoarabinan

A viscous polysaccharide that holds split ends together.

Glycerin

A natural humectant. It provides hair moisturizing benefits.

Hydrolyzed Vegetable Protein

Absorbs into hair, building strength from within to reinforce and protect the surface of the hair.

Keratin

A structural protein that rebuilds and strengthens damaged or porous hair.

Lavender and Geranium Oils

Essential oils that sooth the scalp and leave a relaxing aroma. Both feature natural antiseptic properties.

Linseed Extract

Derived from flaxseed, a good source of alpha-linolenic acid and an essential fatty acid that helps improve the health of hair.

Polyquaternium-4

A weightless, flexible polymer that provides instant volume, maximum lift and a "memory" factor, for hair that holds its shape and styles that last longer.

Squalene

Plant-derived hair conditioner that leaves strands softer and shinier. 

Tilia Tomentosa Bud Extract

A hair conditioning agent derived from the buds of the Silver Linden Tree. Naturally plumps up the hair as it conditions.

Tea Tree Oil

A natural ingredient that helps soothe the scalp and provides a subtle cooling sensation.

Vitamin E

Provides antioxidant and conditioning benefits.

Zeolite

Provides grit, texture and odor absorption.
No Animal Testing
Moroccanoil is a passionate supporter of animal rights around the world. We never test our products on animals, and we never commission third parties to do so on our behalf.
Education anytime, anywhere
Access inspirational and educational videos, plus self-guided learning on color theory, product application, our proprietary technology, and more. Ask our Color Experts about all things haircolor! Available for iOS and Android mobile and tablet devices.