Color Rhapsody High Lift Permanent Cream Color
All-out lift meets all-out care. Up to 5 levels of lift, so you can unleash creative effects on natural blondes, or shift some depth on natural browns. Featuring our ProArginine +ArganID™ system—a proprietary, breakthrough technology that produces the most beautiful results, while also caring for and maintaining the integrity of the hair.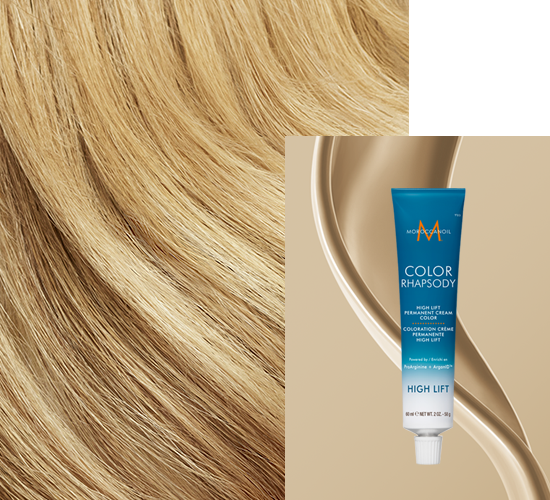 FOR WHO
For clients with all hair types.
HOW TO USE
For best results, we recommend applying Color Rhapsody High Lift Permanent Cream Color on untreated hair that is dark blonde (level 6) or lighter. 
Wear suitable gloves. Apply on untreated, dry hair. 
Mix 1 part Color Rhapsody High Lift Permanent Cream with 2 parts Moroccanoil Oxidative Cream Developer 30 vol. (9%) or 40 vol. (12%) in a non-metallic bowl. Use immediately after mixing.
Color development is up to 60 mins for maximum lift and tone, without heat. 
Once developed, add water, emulsify, and rinse thoroughly.
Complete the color service with Moroccanoil Moisture Repair Shampoo and Conditioner. 
A preliminary patch test should always be performed to determine whether or not a special sensitivity exists. For complete safety test instructions and warnings, please refer to the product packaging.
ProArginine

ProArginine is a type of amino acid that is naturally found in the hair fiber. ProArginine acts as an alkalizing agent that effectively swells the cuticle to allow haircolor to penetrate into the hair.

ArganID™

ArganID™ technology features positively charged micro-particles that are attracted to the negatively charged hair fiber.
Education anytime, anywhere
Access inspirational and educational videos, plus self-guided learning on color theory, product application, our proprietary technology, and more. Ask our Color Experts about all things haircolor! Available for iOS and Android mobile and tablet devices.